You are now in the main content area
Nadia Mykytczuk
Industrial Research Chair
School of the Environment
Biography
Dr. Mykytczuk runs an interdisciplinary research program that uses tools in molecular biology, microbiology and biogeochemistry. Specifically, her work focuses on developing, optimizing and prototyping biomining and bioremediation technology. She has published over 25 research papers (H-index: 14) and has trained a total of 38 highly qualified personnel (HQP) since 2009. She has several ongoing projects related to AMD remediation using natural systems with industrial partners (BacTech Environmental, Vale, Denison Environmental Services Inc., and Glencore INO) and governmental support (OCE, Environment Canada, NSERC ENGAGE and CREATE programs). Her 5-year Industrial Research Chair will allow her to accelerate contributions towards improved metal recovery and remediation of mine wastes, both locally and globally.
Education
Post-Doctoral Fellow- McGill University, Montreal (2010-2012)

Ph.D., Laurentian University, Sudbury (2009)- Boreal Ecology

B.Sc., Carleton University, Ottawa (2005) - Environmental Science

Medal Recipient- Graduate with Highest Academic Standing in Science
Academic Appointments
2016- present: NOHFC Industrial Research Chair in Biomining, Bioremediation and Science Communication (Laurentian U.)
2016- present: Assistant Professor (Laurentian U. School of the Environment)

2013-2016: Research Scientist- Bioremediation (Laurentian U. Vale Living with the Lakes)
2013- present: Adjunct Professor- Biology, (Laurentian U. Vale Living with the Lakes)
On The Web
Living with the Lakes: http://www3.laurentian.ca/livingwithlakes/about/staff/nadia-mykytczuk/
List of publications: https://scholar.google.ca/citations?user=2TVsCVoAAAAJ&hl=en
Research gate: https://www.researchgate.net/profile/Nadia_Mykytczuk
LinkedIn profile: https://ca.linkedin.com/in/nadia-mykytczuk-1358a781
Twitter: https://twitter.com/nmykytczuk
Research
Overview:
The Mykytczuk Lab uses aspects of microbiology, molecular biology, and environmental science to study extreme and disturbed habitats and ecosystems. The microbial communities that occupy such sites harbor a range of physiological and biochemical characteristics useful for understanding the limits to life, biogeochemical processes in the environment, and in uncovering special metabolic properties with important applications in biotechnology and industry.
For example, studies related to acid mine drainage (AMD) bacteria are key to developing novel strategies and efficient techniques for in situ bio-mining/bioleaching, and for bioremediation and restoration where conventional mining has been undertaken. Comparatively little work has been done in this area, even where mineral extraction has long been practiced (e.g. Sudbury, Ontario). Canada's vast mineral wealth and development potential depends on being able to mine efficiently and effectively in sensitive northern (boreal and tundra) environments while minimizing environmental impacts.
Accordingly, the Lab works to understand the functional link between the geological/geochemical substrates found in and around mines, and the metabolic abilities of the adapted microbial communities in these materials. Novel ecophysiological interactions are probed using functional metagenomics/ metaproteomics, so the bioremediation potential and barriers to widespread use of microbial communities can be better understood. The research program can be synopsised as follows: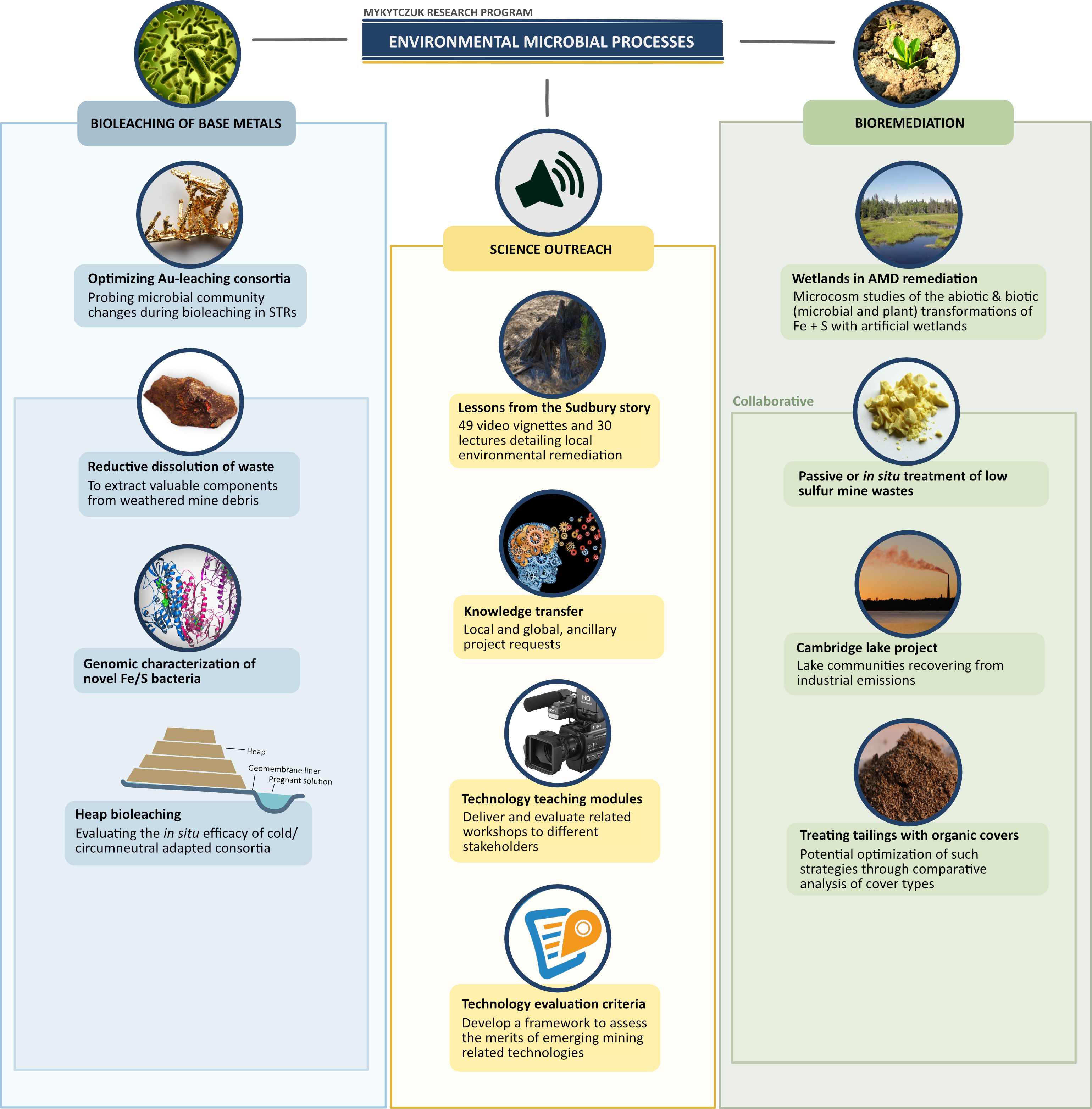 Research Opportunities with the Mykytczuk Lab
The Lab is seeking motivated candidates for M.Sc. and Ph.D. positions. Please review the current opportunities listed here (http://www3.laurentian.ca/livingwithlakes/career-opportunities/) before contacting Dr. Mykytczuk directly.
Current Mykytczuk Lab members:
Madiha F. Khan, M.A.Sc. (Research Associate)
Varun Gupta, M.Sc. (Doctoral candidate; co-supervised by Dr. John Gunn)
Nicole Valiquette (M.Sc. candidate; co-supervised by Dr. Thomas Merritt)
Kurt Yakimovich (M.Sc. candidate; co-supervised by Dr. Nathan Basiliko)
Emilia Principe (M.Sc. candidate; co-supervised by Dr. Michael Schindler)
Elliot Schmidt (M.Sc candidate; co-supervised by Dr. Albrecht Schulte-Hostedde)
Past Mykytczuk Lab members:
Shanay Williams-Johnson, M.Sc. (co-supervised by Dr. Nathan Basiliko)
Kera Yucel, MSc. (co-supervised by Dr. Peter Ryser)
Caroline Emilson, M.Sc. (co-supervised by Dr. Nathan Basiliko)
Ashley Miller, Ph.D. (Post-Doctoral Fellow)
Marney Doran (M.Sc. candidate; cop-supervised by Dr. Thomas Merritt)
Awards
Select distinctions:
2013- Early Career Researcher Award (Polar and Alpine Microbiology)
2013-2018- NSERC Discovery
2013-2018- NSERC CREATE (Scientific Mentoring, Applied Research and Training f Sustainable Mines)
Teaching
Select Courses (Laurentian)
ENSC 4116: Environmental Remediation- Global Lessons from the Sudbury Story
ENSC 2216: Our Environment
ENVI 3656 E/FL: Field Camp for Environmental Studies/ Camp de terrain en etudes de l'environnement (Mine waste microbiology
(Non-LU courses)
Module 26: Ontario Universities Program in Field Biology- Restoration Ecology of Damaged Watersheds
BIO 6821: Biogeochemistry of metals Field course (Module 2: Mine of Knowledge Program)
Publications
For a detailed listing of publications, please see: